To celebrate the achievement of completing her B.S. in Psychology, Christina has carefully planned a summer adventure – a road trip (see map below) across America with her sons Jason and Jordan.
Her friends are wanting to celebrate her by creating a way to give her graduation gifts in the form of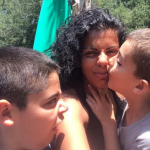 money toward this once-in-a-lifetime experience for her and her boys.
If you would like to contribute, just visit this Paypal link we created for her.
Thank you for helping support this trip!
-Athena, Sarah, Kat and Renata
Road Trip Map