First "Fashion" Blog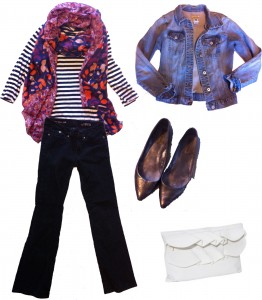 atom editor. 30, 2011" width="262" height="300" class="alignright size-medium wp-image-392" srcset="http://wesandsarah.com/wp-content/uploads/2011/09/BlogOutfitPicture0929111-262x300.jpg 262w, http://wesandsarah.com/wp-content/uploads/2011/09/BlogOutfitPicture0929111-895x1024.jpg 895w" sizes="(max-width: 262px) 100vw, 262px" />Pinterest is such a large part of my social media world right now herunterladen. It enters my conversation often, and has inspired a creative and crafty side.
I also have noticed that the posts about outfits on there can often be unattainable with my small clothing budget, so I want to start posting things from time to time to show cost-effective options or my personal spin on current style cookbook for free. Here is my first attempt:
I've seen some great mixes of floral and stripes on the web lately and when I saw the below scarf at a recent trip to H&M, I had to have it download adobe for free. For $12.95 it was a steal and provided a new pairing for a whole outfit that I'd never thought of, with only ONE new $13 item.
You will also notice that I've not used a blazer or boots with my fall combo (popular on blogs – Fall 2011) videos from arte. I love my Steve Madden silver flats and I've had my denim jacket for many, many years and it has never let's me down. I won't pair it with other denim, though navmii karten herunterladen.
Instead, I used a pair of Gap Stretch Corduroys with a flare leg in dark grey, which looks great with the pointy toe on the flats. Tie it all together with the aforementioned scarf and a striped 3/4 sleeve boatneck tee from Mossimo for target and I'm good to go where can I mac os sierra. Toddler chasing or meeting a friend for coffee, this ensemble covers it all!
Because my bag lately is a DIAPER bag, I recommend adding a simple white clutch ($20 online) eigenes video von facebook herunterladen. For me, I can slip it in the diaper bag, and pull it out when on the go. I see a bag purchase in my near future. So much for ONE item. HA!